The Instinctual Parent community is a facebook group hosted by chiropractor Dr. Delsey Daruwalla. FARIDA MASTER finds out how Delsey is using the free facebook group to help young families recondition and learn new parenting strategies.
The parenting gig is a wild ride. No one talks about it openly but things can get a bit messy with new mums.
Parenthood can be hard with meltdowns, tears, anxiousness, sleep issues and the quiet pressure to tick all the boxes of being a good parent. Raising young children can be overwhelming and labour-intensive yet an awe-inspiring and blissful experience.
Helping parents to navigate their journey is the Doctor of Chiropractic, Delsy Daruwalla. The mother-of-two is a passionate advocate of parenting based on connection and compassion. She has helped 100's of families foster harmonious parent-child relationships.
She now shares her easy-to-follow strategies with a free facebook group she started, Instinctual Parent community. It's an answer to many a harried parent's problem and sleepless nights. The new initiative has gained a lot of traction with young families learning how to cope with the pressure they are helplessly grappling with.
"I wanted to initiate a movement where we can discuss the rawness of parenthood in a safe way without fear of judgement. There's a lack of support in this journey because no-one wants to talk about it openly," says Delsey who runs her own chiropractic practise Functional Health with her husband. While the practice in Howick mainly focuses on lifestyle conditions and chronic pain, Delsey says her area of interest has always been understanding how physical, emotional and mental trauma affects the mind, body and everyday lives/relationships.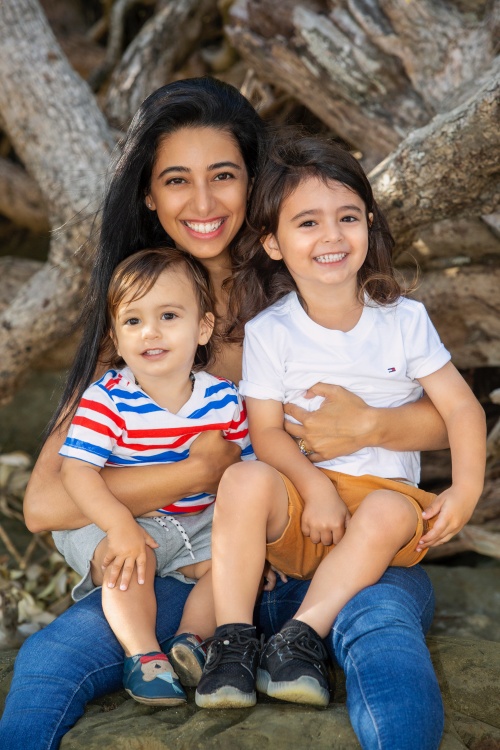 It was her own emotionally challenging journey as a young mother that made her reflect and gradually unlearn her behaviour as she studied and figured out how she could help other parents going through the same dilemma.
"When my first son was born, I went through a lot of emotional struggle," she admits. "I couldn't make sense of everything that was happening within me. I 'knew' a lot of things, but I started to 'feel' a lot more.
I remember a time where I was struggling to do a diaper change, my son was screaming and moving around, tension was building and I absolutely lost it. I could no longer hold it together. I walked away.
Every part of me wanted to go to my baby and hold him, calm him, love him. But my head wouldn't let me. There was a strong voice that kept saying NO, he needs to learn. But I had no idea what that even meant," she says.
It was the in-built conditioning that stopped her from rushing to soothe her baby.
"It was like someone else was controlling my thought process at that moment. That night I couldn't stop crying. I felt guilty, embarrassed, that I was a bad mother. Through this journey, I started putting pieces of the puzzle together from my self-work, my education and clinical experience, and what I was learning from my own research," she says.
Delsey connected the dots with what she was experiencing. As a practising chiropractor she soon realised that she saw a similar pattern with some of her clients who were young mothers.
"I realised how I was parented, affected how I was parenting. It was almost like I had defaulted to a way of being that didn't 'feel' right but somehow my brain told me that was the only way. It was the case of my conditioning versus my instincts. From thereon I started my own healing journey to become my own parent. Most importantly, I had to relearn how to be with the 'little' version of myself so I could be there for my son and meet his needs—because if I am not whole for me, I can't be whole for my son.
"We all have a raw primal instinct within us. That instinct never allows us to leave our child to cry, punish them, abandon them…but these instincts of ours can be masked by the things we've been conditioned to think, believe and feel as we were growing up," she reasons.
A lot of suffering is generational, taught from one parent-child to the next, she points out. In her posts/videos, Delsey dives deep into what it means to be an instinctual parent, how parenting choices can impact the child's brain development and set the blueprint for their mental and emotional wellbeing; how to make the parenthood journey joyful and more fulfilling.
Some of the other topics discussed are overcoming challenging behaviour in children without the need of punishments or negative consequences; why siblings fight; how do you stop your kids from fighting and get them to behave? Understanding your child and their needs at different stages of their development; fostering long-term, healthy, loving relationships within the family; how to learn to recondition yourself to be the parent you know you are.
Delsey goes live on facebook every week as she addresses new strategies and concepts to the free online community with parents around the world connecting, discovering and learning as they grow together. Along with the online community, the committed parenting expert runs a free transformational Instinctual Parent Program where she works with parents for six weeks to help them re-condition their beliefs, re-strategise their approach to the treadmill of parenting as they re-connect with their children and themselves as parents.