EastLife provides a platform for some dynamic women who mean business, know the success code and love what they do.
Tessa Gaskell
Founder Poppy in April
Ph: 021 252 6246
Email Tessa
www.poppyinapril.co.nz
Creative, passionate and willing to go the extra mile, Tessa Gaskell is owner of Poppy in April, a boutique floral studio that is cutting-edge, personal and sustainable. She takes pride that she supports other small businesses and delivers a range of floral gifts, anywhere in the country.
Being a creative and arty person, Tessa always wanted to do something that can make people smile. "After studying Interior Design, I realised my passion was in a field of colour, creativity and joy… that field was the floral industry," says Tessa. "Hearing of their life stories, the special occasions and meaningful need for our flowers, always brings so much joy."
The story of how the business got its name is equally enchanting. Their daughter Poppy was born in April. "She is the inspiration behind the business," says the enterprising mum.
The secret of Tessa's success is giving 110 per cent of herself, providing each customer with not only a service and product but a beautiful experience that makes ever lasting memories.
---
Lynne Hodges-Hall
Bayleys Real Estate Ltd,
Howick
Email Lynne
Ph: 021 467 940
First impressions count when it comes to selling your home and maximising its potential is essential. So, to ensure it stands out from the crowd and 'wows' your target market, it pays to talk to real estate consultant, Lynne Hodges-Hall from Bayley's, Howick.
A former interior designer, she knows how to present a property beautifully, ensuring clients achieve the best possible result. With more than a decade of industry experience, Lynne has a reputation as a hard-working, trustworthy real estate professional who offers a first-class service tailor-made to suit her clients' specific needs and home.
Importantly, scores of very satisfied clients are proof of successful outcomes resulting from understanding the market, coupled with her untiring efforts to achieve a win-win for vendors and buyers.
---
Stephanie Cheok
Weebake (Cakes)
Ph: 021 265 9699
Email Stephanie
What started ten years ago as a hobby, turned into a flourishing business for Stephanie Cheok, the skilled cakemaker and decorator, behind WeeBake (cakes).The best thing about the business that celebrates life's precious moments is the customer satisfaction and "bringing cake dreams to life for my customers," says Stephanie.
The secret behind her success is working closely with her customers to make sure they get a cake created for their specific needs. "Every cake is custom-made to their individual requirement which makes them even more special. I always put in 110 per cent effort in my work," says the dynamic lady.
Stephanie believes that the requisites for a skilled cakemaker are patience, attention to detail, and a passion for cake making and decorating. Ask her about her most challenging creation and the lady behind Weebake (cakes) talks about creating an elaborate cake that reached new heights. "It was my daughter's 7-tier wedding cake decorated with lots and lots of sugar flowers," she says. As for the icing on the cake, it's, "Customer feedback, seeing how much my customer enjoy their cake is what keeps me motivated."
---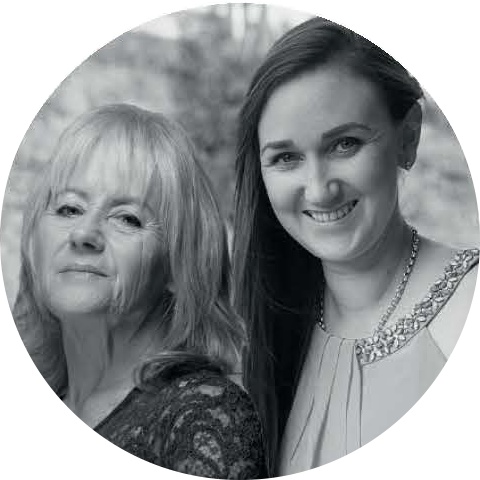 Cathy Cowin & Elizabeth Jane
Clevedon Creatives + Co
6 Papakura-Clevedon Road, Clevedon
Ph: 027 724 9766
Email Clevedon Creatives + Co
Hours: Mon-Sun 10am-4pm.
Providing a dedicated space and creative platform to professional artists and skilled creators to showcase their work is Clevedon Creatives + Co nestled in a historical building in the heart of Clevedon.
The ladies behind the creative enterprise are Cathy Cowin and Elizabeth Jane, both directors and co-owners, dynamic women who play different roles as professionals, business owners, talent scouts and homemakers.
A collaboration of local and NZ wide talents, at Clevedon Creatives + Co you will find artistic and eclectic products from glass and garden sculptures to framed prints, soy candles, pottery, paper mache vases, little wooden houses to cot blankets, baby clothing, children's bedroom artwork, wooden toys and more.
Cathy, co-owner of Fringemakers NZ and owner of Evolve Hypnotherapy, and Elizabeth, owner and director of Falcon Ridge Safety Group, are both artists — they advise people to take their time to explore the gallery. Be assured as you discover rooms that hold more treasures, you will be in awe of how creative the human mind can be.