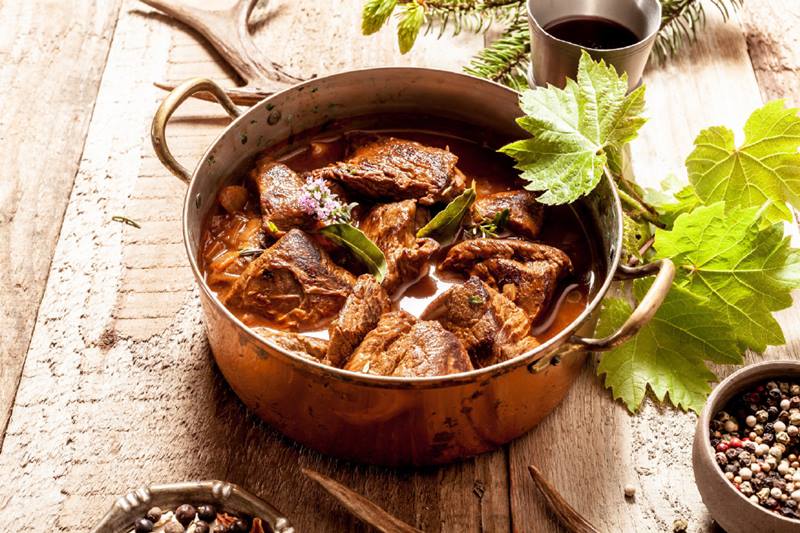 Lashings of this dish are bound to be requested once guests gain a taste of Mr Brown's cooking!
This month, we have another recipe supplied by Duncan NZ Venison and conceived by Graham Brown from The Cookhouse.
Ingredients
• 500gms Duncan venison diced goulash
• 1 tbsp olive oil
• 2 onions, diced
• 2 garlic cloves, crushed
• 1 tsp paprika, ground
• 1/2 spring thyme, dried
• Black pepper, freshly ground
• 1 rasher of lean bacon
• 1 cup each of leek, celery & diced peeled carrot
• 1/3 cup cranberries or cranberry jelly
• 1 tbsp tomato paste
• 100ml red wine
• 1/2 tsp vinegar
• Zest of 1/2 a lemon
• 1 tsp Dijon mustard
• 100ml reduced salt beef stock
• 1 tbsp cornflour, mixed in cold water
• 2 tbsp lite sour cream
Method
Heat the olive oil in a frying pan; sauté the onions and garlic until transparent. Increase to a high heat and pan-fry the diced venison with the paprika, thyme and pepper until lightly browned. Remove and keep warm. Reduce to a medium to high heat and sauté the bacon and vegetables until soft.
Add the cranberries, tomato paste, red wine, vinegar, lemon zest, mustard and stock. Combine with the diced venison and bring to the boil.
Reduce the heat, cover and simmer for an hour, or transfer to a casserole dish in a moderate oven and cook for the same length of time. If necessary, thicken with cornflour solution and return to the heat for a couple of minutes. Stir in the lite sour cream before serving with rice or potatoes.
Tip: This goulash can also be used as a pie filling, or cooked in a crockpot.
For more recipes, or to buy Duncan NZ venison, see duncan-nz.com.