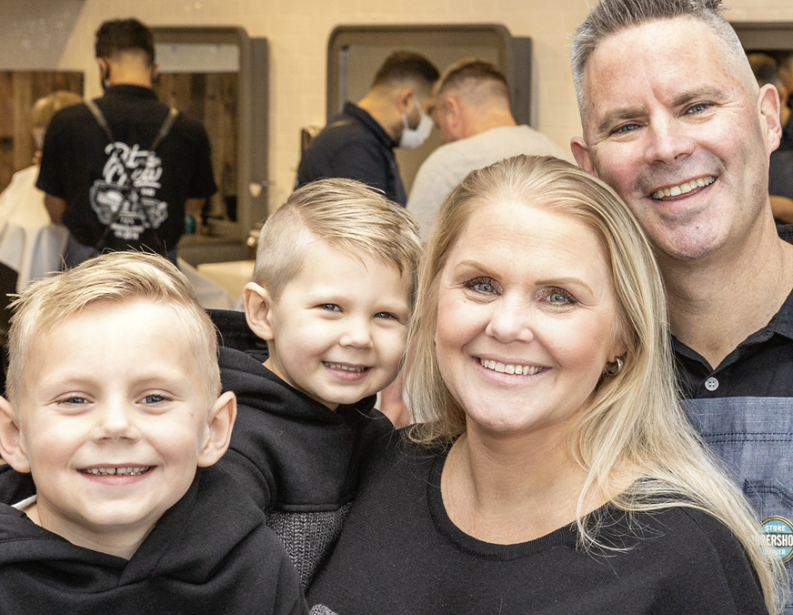 What is Allan Moseley doing running a barbershop, you wonder when he talks about a dramatic career switch. FARIDA MASTER finds out that Allan is well backed by the mega cultural resurgence as men want to look sharper with a plethora of pampering services and a fresh-cut.
For someone who has worked with the Air New Zealand for 21 years, training personnel, nationally and internationally, Allan Moseley has had a big career change.
Sitting in a flash barber shop that looks out on the main street of Howick, there is a constant flow of yuppy as well as more mature customers and families walk in. It feels like men are a serious threat to women, in the grooming department.
As a bystander at BarberShopCo, the upmarket barber shop, it's interesting to note that practically every customer be it a 25-year-old hipster or a 65-year-old, grey-haired bloke walks away with a hair styling product and a moisturiser.
Oh boy! Are men playing catch-up with the ladies in the grooming department?!
Allan who greets every walk-in customer is interrupted multiple times during our interview, with clients wanting a consultation on the kind of product they should pick up.
"It's about the whole experience. Every person walks out from here feeling, looking and smelling amazing," he says.
"After 21 years with Air New Zealand, and a job I absolutely loved, I wanted to spend more time with my family. My job involved being away for a long period of time," he says about trying to find a balance between his professional and personal life.
"I was thinking of a career change but was humming and hawing about it. I have always been passionate about training and looking good. I weighed several options. Then a friend of mine opened a barber shop in Birkenhead. I was surprised because he was not a barber by profession. I called him and asked him how he did it. He explained that he had opted for a franchise of BarberShopCo. They have their systems and processes in place and are very supportive.
"I knew I needed a lot of support and thought it wouldn't hurt to have a chat to find out more about the business."
That was two years ago. One month after Allan left his high-flying job, Covid struck.
To open a new business during unprecedented times with the virus shutting down the country, was a huge challenge.
"We started building in January 2021 and hoped to open shop by October 2021," says Allan about his tumultuous journey during Covid-ravaged times.
Sadly, there was a material shortage, and the series of lockdowns didn't help. "We finally opened in March 2022. That was a tough ride. Lots of sleepless nights," he says of the hard times they faced.
It was a close shave with destiny. Now it's been four months since they opened shop, and there is a steady flow of clients. Allan is loving it.
Taking us through the paces, he says, "We start with a consultation about the kind of cut they are looking for. Is there something new they would like to try? Or would they prefer to go with the same look? We also have a Look book that helps them decide on the style they fancy."
Being a local, Allan says that having grown up in Howick he always felt that there was something missing when it came to going for a haircut at a barber shop. There was a strong desire to fill up the gap.
"I always wanted to bring something that was well-designed, family-oriented, and upmarket with competitive pricing. We also offer a school and pensioner's rate. One of the things that all our customers love is the hot towel treatment after the cut. It makes them feel relaxed and refreshed. A lot of our customers enjoy the deluxe shave.
"As for the children, one of them spotted our barber give a kid a spiderman cut and then they all wanted the same!" he laughs.
The father of two boys, three-year-old Xavier and six-year-old Xander, with another baby girl on the way, Allan says it is a great feeling when he watches fathers and son bond as they come in for a haircut together.
Taking about mane dreams, Allan currently has five chairs in the spacious shop, manned by three skilled barbers. "Someday, I hope to employ five barbers. One for each chair," he says wistfully.
"While ours is the 25th shop in the BarberShopCo chain, and is the furthest out east, I'd also love to open another barber shop in the country, maybe in Christchurch. I want to offer a barbering experience they haven't had before."
Lucky for him, it's a personalised service that one can't possibly avail of, online!