This month we focus on a guide to clean beauty with natural, organic and vegan options that make you feel and look great!
Ultra-Rich Natural Night Cream
Scenturie's Ultra-Rich Natural Night Cream (RRP $39.99) is a luxurious blend of pure botanical plant oils and hyaluronic acid selected for deep moisturising, regeneration, and nourishing for ageing and dehydrated skin.
This award-winning night cream is packed with essential vitamins, minerals and fatty acids, formulated with a sensational line-up of skin-loving plant oils.
It is free from animal products, palm oil, synthetic chemicals and known irritants and 100 per cent vegan and cruelty-free. Suitable for ageing, mature and normal to dry skin types or any time you need a deep moisture boost. This ultra-rich formula packs a punch, is easily absorbed and works to soothe, repair and regenerate the skin overnight. Scenturie Skincare is ethically made in New Zealand and available from Howick House Pharmacy or online at www.scenturie.co.nz.
Superfood Crystal Glow Elixir
Want skin that shimmers and glows? The new Raww Cosmetics Superfood Crystal Glow Elixir RRP $44.99 will recharge and brighten a tired and dull complexion.
Its vegan formula is infused with natural white tourmaline crystal, promoting increased circulation and skin radiance with a subtle iridescent finish. A lightweight elixir is a clever make-up and skincare hybrid.
Superfood Crystal Glow Elixir packs infusion of clinically proven superfood extracts, including WildBerry Harvest™ and Vitamin C-rich Kakadu Plum works to nourish and hydrate. Raww Cosmetics products are available at select pharmacies nationwide.
Hemp Soothing Body Balm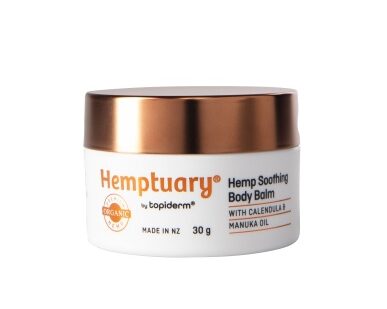 Hemptuary Hemp Soothing Body Balm (RRP $29.99) is an intensive body balm formulated with organic hemp seed oil, calendula, manuka oil, beeswax and lanolin to soothe skin irritations and relieve tired and stressed skin.
It provides protection and nourishment for sensitive skin, dry, itchy skin, before and after shaving, body massage, sore muscles, tattoo aftercare and diaper or nappy area.
Use morning and night. Apply a small amount to the desired area and work balm gently into the skin. Avoid contact with eyes and wash hands after applying. Available from Life and Unichem Pharmacies.
Refreshing and Healing Blend
A first-aid kit bottled beautifully. Created with aloe vera, witch-hazel and organic lavender in super essential oil, this Silver Mist Lavender Spray by Waiheke Herbs not only acts as a natural deodorant and a toner or an aftershave but is ideal for healing burns, rashes, cuts and grazes.
Also ideal for cooling hot flushes, inflammation bites and stings this antibacterial, antifungal, antiseptic magic portion in an aesthetically created bottle is safe and gentle for babies too.
It was first created by Wendy Kendall because she needed a potion for her babies' nappy rash. Available at all Huckleberry stores or online at www.waihekeherbs.co.nz. Also, try the Rose (Rose/Vanilla/Rose Geranium) or Musk (Sandalwood/Frankincense/Ylang-ylang)
(RRP 100ml $10.00, 125ml $15.00)
With him in mind
Scenturie natural skincare has now launched a new revitalising skincare range for men. The Scenturie Men's Revitalising Skincare Set features three natural skincare products to revitalise and restore healthy glowing skin.
Men's Hydrating Face Cleanser: An all-natural, dual-purpose face cleanser that effectively removes impurities and excess oil. This cleanser will nourish and hydrate the skin, and it works as a shaving cream too! (RRP $42.99)
Men's Charcoal Coffee Face Scrub: Buff away dead skin and oil to reveal brighter, smoother skin. Made with finely ground coffee beans and pure activated charcoal, suspended in a rich blend of premium plant oils. (RRP $39.99)
Men's Enhancing Facial Moisturiser: The Enhancing Facial Moisturiser delivers a super nutrient skin boost keeping it hydrated and nourished (RRP $39.99). Macadamia, jojoba, hemp seed, argan and meadowfoam oils are all renowned for their deeply nourishing properties.
Get the Skincare Set for the special price of $114.99
Tropical Vacation In A Bottle
An ultimate all over body lotion, it is packed full of skin-saving ingredients, such as vitamins A, B,C and E which intensely hydrate skin.
It also smells delicious – like a tropical vacation in a bottle – thanks to its unique botanical infusions and coconut milk that provide your skin with complete nourishment and protection.
Organic exotic oils and essential fatty acids hug every inch, transforming skin into dewy perfection, while protecting it from harmful free radicals.
Pure Fiji hydrating body lotion RRP $49 – 12oz/350ml.
Deep Pore Cleansing
This cream has natural scrub particles of walnut, date extract, coconut and lemon oil, which provide intensive deep pore cleansing, leaving the skin cleaner and brighter.
RRP $48. Shascrub Plus Face and Body Scrub (40 gm).