EastLife editor, HELEN PERRY well remembers idyllic picnic days on Motuihe Island during the '50's and 60's. A Hauraki Gulf gem, with beaches either side, Motuihe was a weekend favourite.
A handy kiosk provided drinks and ice creams but, for the most part, it was all about sunbathing and swimming, walking and picnic feasts. However, today, visitors to the island generally have another purpose in mind.
Every Sunday fortnight, Motuihe Island welcomes between 20 and 150 hard-working volunteers intent on helping conservation efforts on the island. Among them is Pakuranga resident, Fiona Alexander, who is the volunteers' co-ordinator for the Motuihe Island Restoration Trust.
Since she herself became an active project volunteer in 2005, five years after the Trust was established, she has seen hundreds of thousands of natives trees planted and numerous rare bird species established including little spotted kiwis, saddleback, kakariki, bellbirds and whiteheads. In addition, shore skinks, common gecko, duvaucel gecko and tuatara have also been given a new home on the island.
In partnership with DOC (Department of Conservation) the Trust's aim is to restore the island's natural environment of beaches, native forests, wetlands and open spaces whilst also re-establishing it with rare and endangered native birds and insects.
"As an avid yachtie who often visited or anchored at Motuihe I saw the work being done and decided I wanted to help. Since then it's been a fascinating journey; a real reconnection with the land and the island's heritage," Fiona says.
During that journey Fiona says she has learnt so much about our native flora and what originally flourished on Motuihe. Equally, she has been thrilled by the successful release of native birds on the island – pest free since 2004.
"That many of the newly released species are breeding is especially pleasing," she says.
"For example, we know the little spotted kiwis are breeding because recent photos show kiwis without bands; all released birds were banded. These releases are extremely costly, about $80,000 a time so when we see breeding results it's really exciting."
Not quite so exciting was the bellbirds semi exodus to nearby Motutapu Island.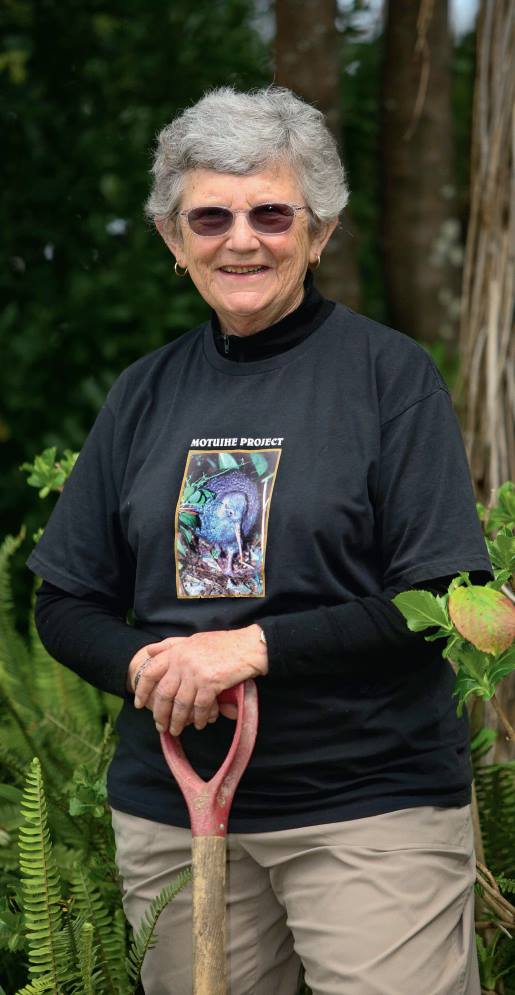 "That was a bit of a blow but they are slowly returning, so that's a good sign," says Fiona who is committed to the vision of the island's former resident concessionaire, Ronnie Harrison who was determined to bring back some of New Zealand's unique flora and fauna to Motuihe.
"Interestingly, there are some strict guidelines as to what can be planted. When Masters student, Shelley Heiss-Dunlop took on research into what had grown on Motuihe prior to human occupation, she drilled deep down to take soil samples.
With the help of other uni students, all the different types of pollen in the soil were counted and recorded. revealing what plants had been part of Motuihe's original flora.
"Kauri and Nikau were found to have completely disappeared but because we are allowed to source seed from nearby Motutapu and Waiheke Island, these trees have also been re-established along with the likes of Kahikatea.
With more than 400,000 trees planted on the island by volunteers, Fiona says the project has been boosted by groups from corporate companies, service organisations, schools, the Chinese community, the Buddhist community, clubs such as the Boy Scouts, university and international students plus interested families.
"Without their input we would never be where we are today and of course, it is a huge ongoing project so we welcome any sort of help we can get. Volunteers don't have to know a lot about plants or even gardening because they are guided all the way.
"We have three protected bush areas from where we collect seed and children are especially good at this; it's seems to be a job they love to do."
As well as the fortnightly plantings, and some mid-week trips, Fiona says the Trust operates guided educational tours of heritage areas on the island.
Early Maori and European history of the island is of special interest to visitors while ex-Navy cadets, who were trained on the Island between 1941 and 1963, have also returned to reminisce about their days there and to provide insights into the time when the island was converted into the HMNZS Tamaki Naval Cadet Training Base.
"In fact, the island has a very varied and fascinating history going back to 1839 when William Fairburn purchased it from local iwi and farmers," Fiona explains.
"Since coming into Government ownership in 1872 it has been a quarantine station for people and animals, an internment camp during the First World War, a health camp, a naval base and more. But it is the internment of a German naval commander Count Felix von Luckner and his well executed escape, that often intrigues visitors."
And with the Trust about to mark 100 years since that internment and escape, Fiona says it's a great opportunity for families to visit the island and learn more about its history and its present day conservation programme.