The 'Hay'day of Kiwi ice hockey is in full swing. Recently, JON RAWLINSON spoke with Oliver Hay, the youngest of five siblings to represent New Zealand on ice.
Keeping one's head in the game is no easy feat, particularly when there's an opposing roster full of guys barrelling along on blades at around 20 miles an hour with the (clandestine) intention of removing said head with big sticks!
In such situations it pays to play it cool, as Ice Black and Botany Swarm winger, Oliver Hay, would attest. The latest member of the Hay family to don skates at international level was learning the ropes on the rink before he even entered a classroom.
"I've always joked that I was born on skates," he says.
"My older brothers used to take me to trainings. I was probably only two the first time I went on the ice and I began skating when I was about four. My first game would have been when I was five or six."
While he believes this early start has helped him develop as a player – having now already represented his country at two world champs – Oliver believes a passion for and knowledge of the game is just as important as silky skills on skates.
"I've known some pretty good players who have gone into the sport in their early teens but it's not just about skill, you really have to understand the game. When you're brought up with the sport, your hunger to play grows."
And that hunger is in no short supply among the Hay family, which features five New Zealand hockey representatives (including Oliver) and a former president of the New Zealand Ice Hockey Federation in its ranks – see secondary story.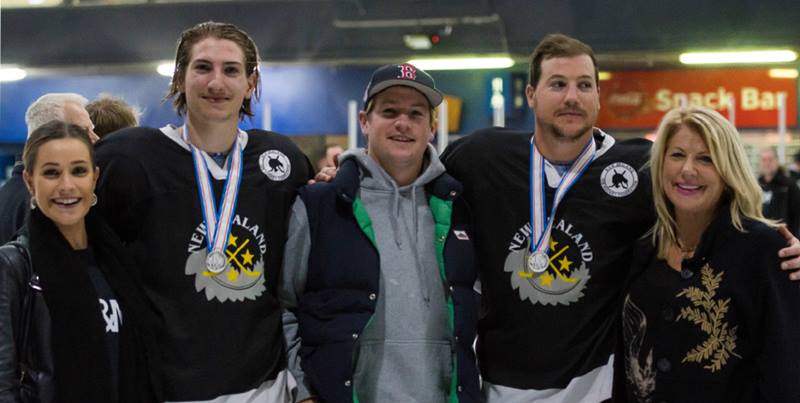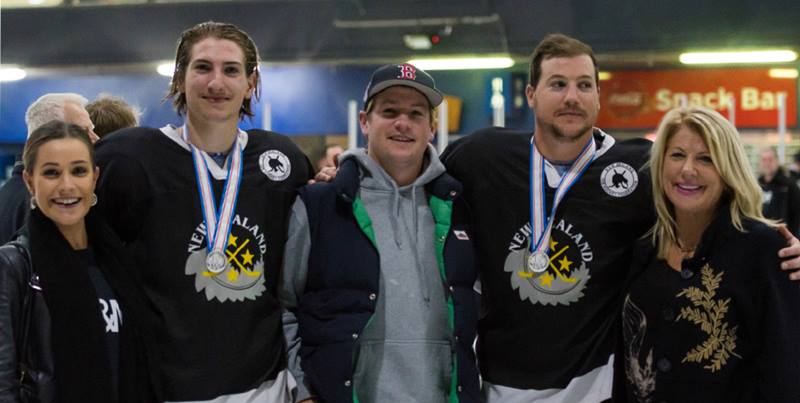 Since completing his high school studies a couple of years back (on scholarship at the Canadian International Hockey Academy near Ottawa), Oliver has been following the winter, splitting his playing time between Auckland and the USA.
Now aged 20, he is considering whether to pursue a US or Canadian college scholarship or play professionally in Europe. Whichever path he takes, his ultimate goal is to play in the NHL. "If I get the opportunity I'll pretty much be the first from this continent to do so; the chances would be similar to winning Lotto, though.
"I wouldn't really have a choice about which team I played for, but I grew up watching the Bruins and, now that I'm living [in Boston] I love going to see them. Playing for them some day really would be a dream come true."
Until then cutting a fine figure skating with the Ice Blacks certainly won't harm Oliver's chances. Earlier this year, the team claimed silver at the Ice Hockey World Champs, narrowly missing promotion to world Division 2A. "I was pleased with how the team played," Oliver says.
It would have been great to have beaten China and won gold but they have a strong side with a decent number of professional players. Hopefully, next time we can go the whole way and be promoted; that's the goal."
During September 7-9, the Ice Blacks will take on the Australian Mighty Roos during the Ice Hockey Trans-Tasman Challenge. Oliver believes his team can upset the higher ranked side. "We have quite a young team, with some new players," he says. "I think they're a bit above us as a hockey country but we're not that far behind and we'll be giving it our best shot."
Born to Swarm
Although the Botany Swarm may not have had a 'season in the sun' so to speak – finishing a disappointing fourth – Oliver Hay is optimistic that soon enough he, like his brothers (teammates Andrew and Joshua), will claim a New Zealand Ice Hockey League title.
"We haven't had the season we wanted," Oliver concedes. "We've had a few injuries and things haven't gone our way. The competition is 100 times better than it used to be. Every year, better imports are coming in and New Zealand players are stepping up too.
"When the Swarm won those titles [2007, '08, '10 and '11], we had the best core players in the country and imports weren't that relevant. Now, the [Canterbury] Red Devils and [Southern] Stampede have some top imports, who have played high level professional hockey, as well as great local talent."
Oliver believes the presence of better imported players is helping to grow the game in New Zealand. "Yes, 100 percent! I think there's room for Kiwi players to step up as well, but, when you're playing alongside guys of that quality, you definitely learn a lot."
Making Hays…
'Hay, Hay, Hay' would be a most apt chant when the Botany Swarm competes. And yet, when Oliver Hay and his older brothers – Andrew, former captain of the Ice Blacks and a long time Swarm skipper, and Joshua, who's also clocked plenty of ice time with both squads – hit the ice, their style is anything but 'agricultural'!
Asked if he and his brothers could be considered ice hockey's answer to rugby's Barrett boys, Oliver laughs dismissively; fair enough too as it seems there's more Hay in Kiwi hockey than in an Amish barn!
The eldest of the brothers, Ryan – with whom the family affair with hockey began – also represented New Zealand, at U18 level. And, one of the two Hay sisters, Libby-Jean, plays for the Ice Fernz.
Oliver fondly recalls the first time he, Andrew and Joshua competed together for their country, at the 2014 Ice Hockey World Champs (Division 2b) in Spain.
"We became the first three siblings to play together for New Zealand and I became the youngest to do so. Also, Libby-Jean was playing in Italy at the same time, so that made it even more special," he says.
The siblings' mother (Elizabeth) and father (Grant) have been heavily involved in administration – Grant is a past president of the New Zealand Ice Hockey Federation and current Swarm general manager.
Following the 2014 tournaments, this remarkable family was recognised by the International Hockey Hall of Fame in Toronto.
"We had to send in our jerseys from that year," Oliver says. "It's a real honour knowing that my jersey is hanging next to those of some of the best players to ever play the game."
He credits sibling rivalry has beneficial in helping him perfect his skills.
"I don't go out of my way to be more 'flash' than them but it's always good to have that extra competition. It's mostly in practices where you see [the rivalry]; Josh scores a goal, I score a goal, Andrew shuts me down on D, that kind of thing," he says.
"I wouldn't say we have a sixth sense, but they're the two players I can best communicate with and that helps on the ice."
Even when the current crop of Hays hang up their skates, Oliver believes there's a good chance another will sprout. He says the newest addition to the family, Cruz, could be a likely 'draft pick.'
"Libby-Jean is still with the Ice Fernz but recently took some time off to have a baby," he explains. "Her partner, Jordan [Challis] also plays [Swarm and Ice Blacks] so I think their boy will be on skates soon enough as well!"