With so many players coming and going from Super Rugby, it's easy to forget some of the
rugby heroes who once graced Auckland's garden of Eden. JON RAWLINSON recently
encountered one such giant who may have given the game away, but remains a genuine
hero.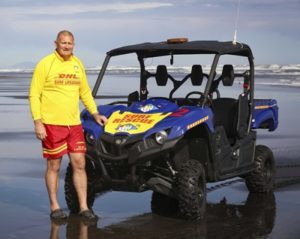 While big Jim Coe may have donned the black, red and white of the Counties Manukau Steelers more than 100 times during his career, the lock-solid second rower was also one of the first 'Blues brothers'.
So, where is he now? It turns out Jim has discovered that, although life's a beach, saving lives is no picnic! "When people refer to surf lifesaving as a sport, I cringe a little bit. First and foremost it's an essential emergency service and when there's an emergency it's all hands on deck," the Karioitahi Surf Club president says. "That said, the sport aspect is a great recruitment tool.
Like rugby, surf lifesaving is very much a team game; as an individual, you get out what you put in. And, with any sport, my philosophy is that you're not there to participate, you're there to win."
A lifeguard since the age of 14, it's long been Jim's job to ensure Aucklanders who flock to his piece of coast don't end up at home with Davey Jones. In addition to playing for the Blues in 1997, Jim also represented NZ Maori more than 20 times. If the Mitre 10 Cup (the NPC in old money) is rugby's backbone, then it's men like him who form its vertebrae.
"I came through the same era as old Pine Tree [Meads]. It was hard, physical rugby. There was plenty of mud and no cameras around. You stood there, toe to toe with your opposite, and basically beat the shit out of each other until someone gave in!" he grins.
Although the sun set on his playing days as it rose on rugby professionalism, Jim did manage to reap some financial reward. "Playing for the Blues gave me enough money to buy a boat. I was also working [at Glenbrook Steel Mill] so it made for some long days. It's always nice to have money, but it was never about that for me; I just played rugby for the love of it.
"I had offers to play overseas but I enjoyed my summertime here (and my surf lifesaving) so much that I wasn't keen to swap it for another six months a year of being covered in shit!" These days Jim can still find himself in the proverbial – managing his family's farm – but it's when visitors to his beach find themselves in difficulty that he best not be caught without a paddle! "I'm still actively patrolling.
Last year, I did about 125 hours and performed rescues. There's always competition with the younger ones keen to beat the old fulla!" Early this year, Jim's team (including the old fullas) were pushed to their limit when a "perfect storm" brewed at Karioitahi.
"A woman was swimming and got into difficulty [and] we also had a search for two others – we weren't certain if they were on land or in the water," he recalls. "And, if that wasn't enough, we then had a head-on collision between two motorbikes on the beach. Those incidents together really stretched our services and put our skills into practice." Fortunately, the team rose to the challenge, later earning the club the Northern Region 'Rescue of the Year' award.
"Winning games was great because it meant all that training resulted in points on the board. This type of situation was similar; our training resulted in three or four families
ending up with their loved ones coming home, so you could say that was a win for us too."