There's nothing strange about a concert highlighting autism except, perhaps, this time. That's because Play It Strange, the entrepreneurial charity which calls attention to the great songs being written by students still in school, has teamed up with Newmarket Rotary Club to stage the We Are One concert to shine the light on autism.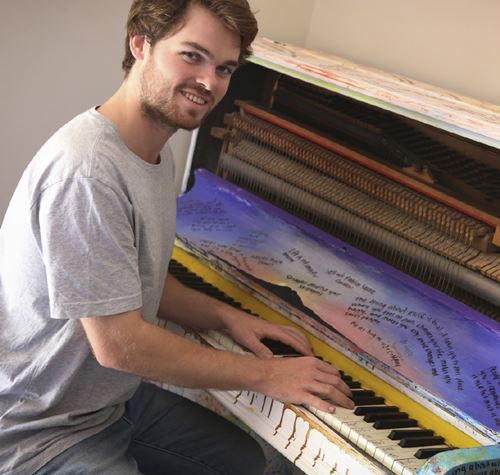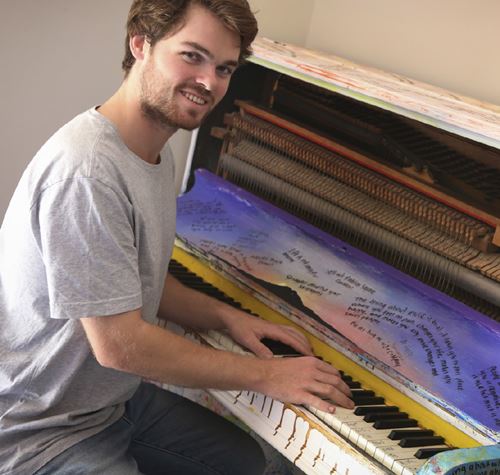 And, among a great line up of musicians – which includes Mike Chunn (Play It Strange CEO), Fiona McDonald (Headless Chickens singer and TV personality), Shane Cortese (actor and singer) – is Howick local, singer and songwriter, Jacob O'Callaghan. Jacob will play keyboard with Larry Morris (who could forget 60's rock idols, Larry's Rebels?) and provide backing vocals. EastLife asked Jacob about his involvement in the concert and his music career to date.
When did you first discover a passion for music and what course did this first take?
For as far back as I can remember, I used to sit on my grandma's knee at the piano as a kid. I was enthralled by how her fingers moved over the keys and the sound that resonated. I was also spoon fed on Irish rock music by my uncle and any opportunity that came about I would be trying to do a three-year-old's impersonation of Shane McGowan singing, Dirty Old
Town. Fortunately, my passion has stayed with me to this day.
Did you have music lessons as a child? If so for how long and which instrument(s)?
I started learning the piano when I was five from the organ player at church. These lessons got me started, and we soon discovered that I could play by ear. My family and I are originally from Kaikoura and shifted towns three times. I continued receiving lessons in Christchurch, and for a small time in Auckland, until finally stopping, as I found it more
soulful to play by ear.
Were you part of a schoolboy band?
No I wasn't, I have always played as a solo act.
Are you part of a band today or do you still prefer to perform solo?
It's funny, because I would be open to being in a band as the energy and adrenaline kick that's incarnated when on stage with other people, is prodigious. I have had gigs where I've played with bands, and it has always been special. At the same time, being a solo writer is good because I want to test myself in tough situations, it allows me to focus on developing
my own sound and the way I want to write
When did you start writing songs and was the aim to become a fulltime musician on leaving school or did you pursue another career in tandem with music?
Song writing for me began when I was about 13. At that age you have some idea of relationships and things  happening around you. I always dreamed of being a full time musician upon leaving school, but since leaving (2012) I have had a taste of how hard it actually is. This prompted me to define my expectations because success can be different on
so many levels.
First year out of school I jumped straight into a business degree that I had no idea about, just for the sake of going to university. One year into the degree I pulled the plug to take some time to re-assess my career. I then enrolled in a science degree, but with no prior knowledge it was another struggle. By this time it was clear that Uni wasn't for me.
Who has been the biggest influence on your music and song writing?
Bruce Springsteen. He taught me the three commandments of rock n roll – hard work and not being afraid to fail, develop a great live show, and to write your own music.
What would you count among your greatest music successes to date?
Playing in The Last Riot (2014) at the old Sacred Heart College Hall. It was the last event to be held in the hall before it was demolished and being in the company of NZ music royalty
made it very humbling.
How did you become involved with this concert and/or Play it Strange?
I became involved with Play It Strange through school. I would enter the annual song writing competitions, and through them I met Mike Chunn. I have been lucky enough to be
involved in concerts such as We Are One, and others, through Mike who has always been very good to me.
Do you have a particular connection to autism?
No, I don't, but it's a disorder that is very apparent in society. I feel very honoured to be a part of an event that is raising funds for its awareness.
Beyond this, what other charity work have you been involved with?
This is my first charitable experience. I think giving back is one of the most fulfilling ways
of saying, 'thank you' in life. I've been fortunate with the education I received and the people who have put their time and effort into me and my goals. It's the best thing I think I could do as a human to say thank you to someone else.
What's the plan for your future in the music industry and do you aspire to head overseas?
I want to keep writing, play live and record a batch of my own songs which I can put out to the public. I'd love to go to Ireland; that's where my ancestors are from and the live
music scene over there is huge.
If you could be Minister of Arts, Culture and Heritage for a day what would you do first and why?
I would assemble a group of New Zealand's musicians to perform at a concert to raise money for Kaikoura's earthquake appeal, and all those in Edgecumbe and other parts of
New Zealand affected by the recent flooding.
If you could invite any three musicians/entertainers (living or dead) to dinner, who and why?
Bruce Springsteen, Stevie Nicks and Jack Black. Bruce, because there ares so many questions I could ask over a Jack Daniels – Bruce is my biggest influence. Stevie, because
her story and life is incredible. The way she forged her music career, the addictions she has overcome and the fact she is still going strong. And, Jack, because he's one of the funniest
people I have seen on screen, and we could re-live all the School of Rock scenes.