Jody Burke, owner of Pakuranga skin and laser centre, About Skin, is a CIDESCO and Cibtac qualified beauty therapist and a qualified trainer with more than 20 years experience.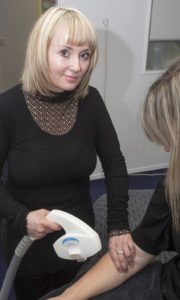 Born and raised locally, her commitment to skin health is well known to loyal customers so EastLife decided to ask Jody for her take on an industry which is often more focused on outer beauty rather than the whole person.
In your opinion what makes a person beautiful?
I believe ugly is not a word that should define us but a description we use when we want change. A beautiful person to me is someone with clear skin and a good heart.
Do you think the concept of beauty has changed over the past century?
It seems these days it is more important to be attractive. Times are different now; we live in a world where investment in ourselves is essential to be successful.
Are only young people beautiful?
Beauty is ageless. It's all about investing in ourselves and, unfortunately, as we get older we usually have to invest more.
There is an English proverb: "Beauty is only skin deep". Do you agree with the concept? And is beauty in the eye of the beholder?
Beauty is not skin deep! When you smile the world smiles with you and that is projected from the inside out. Beauty in the eye of the beholder is a bit like a bag of licorice allsorts – there is a flavour for everyone.
In your time as a beauty therapist have attitudes to appearance medicine and cosmetic surgery changed very much?
In two and a half decades I've seen our services go from an emphasis on relaxing and moisturising to changing and repairing the skin.
Do you personally spend much (or any) time making yourself beautiful either through skin care, appearance medicine or makeup?
I have beautiful skin because I have treatments that include laser, peels and microdermabrasion. I also use Xcell Medical Skincare.
What is your opinion on men wearing makeup?
I think that every man could use a little concealer here and there. I also think that there are some great male beauty bloggers today who have a huge following.
What is your opinion on using botox/fillers to remove wrinkles and do you approve of having plastic surgery to improve one's looks?
I totally approve of all in small amounts.
Do you think society generally expects more from beautiful people?
For example , do we expect them to be friendlier, funnier, more successful, cleverer or perhaps not so clever?
Society places great pressure on everyone, especially through the huge presence of social media – we live our lives in the public arena 24/7. Subsequently, people often use these platforms to make themselves appear beautiful, funnier, successful, or clever when it may not represent the truth at all.
Do you think that beauty can be a disadvantage?
Everything comes with its pros and cons.
Is there more pressure on women to be beautiful than there is on men?
No more pressure than what we place on ourselves.
We generally think of celebrities and showbiz people as, beautiful. Is there anyone in show business you don't see as beautiful?
There are many celebrities/showbiz people who aren't beautiful. When they don't use their fame and put it to good use, by making a difference with their status, it has no value.
Who do you think is the most beautiful actor/actress working today?
There are a few, but I especially enjoy Hugh Jackman and George Clooney, both of which are class acts. I also like Jennifer Lawrence and Sarah Jessica-Parker for their down to earth persona and being themselves.
If you could ask any three 'beautiful' people to dinner, dead or alive, who would they be?
Audrey Hepburn – she was an icon that set fashion standards which are still followed today. I would ask her what skin regime she followed as her skin was flawless right up to the day she died.
Lady Diana Princess of Wales – for the way she carried herself with grace during one of the world's most public marital divorces. I would ask her if she was able to say something to her son's William and Harry – what would that be?
Joan Rivers – I loved her honesty and controversial comedic persona. I would ask, who, in her opinion is the funniest comedian alive!