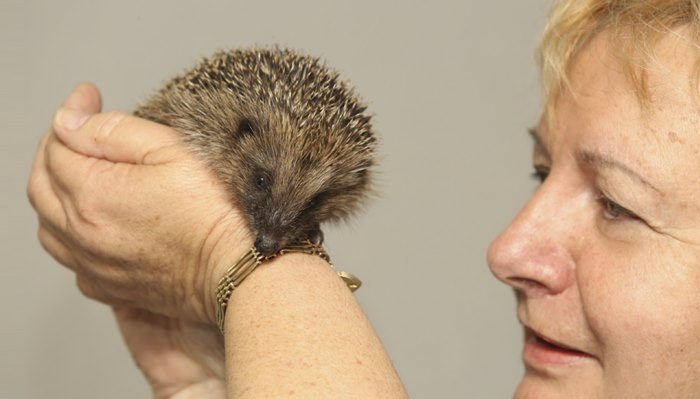 Terri Marchant's haven for hedgehogs is not for the faint-hearted – she can have several baby hogs to care for at any one time not to mention numerous birds in need of care. HELEN PERRY realised that Terri's efforts to preserve the environment and its wildlife are enough to keep a dozen people on the go.
'Rescue, Recuperate, Release', has been Terri Marchant's tenet for the past 25 years, ever since she suggested to her late husband they turn their back yard and shed into a haven for destitute, hurt, or ailing hedgehogs.
Today she has 38 cages not just for hedgehogs but for other small strays in need of attention; her treatment table is seldom vacant. In fact, as we sat chatting over coffee, Terry told me she was (at that time) caring for 33 fledglings – "brought in by cats and kids!" These were released back into the environment just prior to Christmas.
But Terri's lifelong dedication to animal welfare started long before her Hedgehog and Wildlife Clinic. Even as a child in Canada, living in an apartment block, she would buy 10 cent baby turtles from the pet shop and bring them home.
"When the family arrived here I was 11 and ecstatic that there was enough land for a puppy." Now, more than 50 years later, Terri has enough land not just for a puppy but for her veritable menagerie.
As well as hedgehogs, fledglings and other rescued birds, her family pets include 13-year-old Peter Rabbit, nine year old Skitz, the cat, two dogs – "not mine; one is my daughter's, the other my son's but for now they are living with me" – and her matriarch hedgehog, Mrs Tiggywinkle, aged nine who was rescued and painstakingly nursed back to health after someone poured boiling water over her.
"She took years to come right but it was worth the effort; she's a delight."
On leaving her school years behind, Terri went to work for the SPCA and stayed for 27 years, rising through the ranks to animal inspector – large animals.
"In the early days we were located in the inner city. As building began at Mangere it was a time of real change. Sadly, many newcomers to New Zealand didn't understand the rules, laws and protocol surrounding animal welfare and we saw some horrific cases of abuse such as hens crammed into tiny cages and pigs hanging from chains.
"But it wasn't only immigrants; it was very difficult seeing case after case of aggravated cruelty – dogs horribly beaten, dragged, roped, starved and so much more.
"As time went on we were more successful in bringing about prosecutions but eventually it all became too much especially the bestiality cases. I was pretty well burnt out and decided it was time to move on."
Despite a shift in direction – Terri became a bailiff with the Otahuhu District Court and then worked in community development at Manukau City Council among other roles – she continued to do volunteer work and has had her fingers in plenty of community pies.
Today, she is secretary, acting treasurer, education officer and event organiser for the Tamaki Estuary Protection Society, and late last year was involved in the society's clean up of the Panmure Basin and then the Pakuranga Stream. A clean up of Pakuranga's Cascade Falls is scheduled for later in the summer.
"We've also been working towards the Tamaki River Festival this month – the estuary needs all the help it can get; really, it's in big trouble.
"Do you remember when there were 124 pairs of nesting shags in the pines lining the section of the estuary which connects the Panmure Basin to the main waterway? Well, now, there are just 24 nesting pairs. There's just no food anymore. The shellfish are gone and fish are few and far between."
If that wasn't enough to keep her busy, Terri is also an avid permaculturist – "the hedgehogs are heaven-sent in a garden like mine, gobbling up snails, slugs, earwigs and the like.
Because they are such garden-loving creatures, when rescued hedgehogs are ready for release I deliver most to permaculture gardens in the Pukekohe and Waiuku areas as well as to Thames and Coromandel, where they thrive."
On the other hand, fledglings she raises to maturity are released back into the local environment and Terri says she has about a 72 per cent success rate of saving young birds that have fallen from nests or been hurt.
"But it's not all about saving sick or hurt wildlife," she says. "I'm keenly interested in healthy birdlife inhabiting reserves and banks along the Tamaki Estuary – spoonbills, godwits (my favourites) herons, pukeko and more. We're very lucky that so many still thrive in what is, essentially, an urban area. That's why it's so important we keep the waterway free of rubbish."
While rescue work means Terri is 'nurse' much of the year, her interest in gardening has seen her at the forefront of community gardening too – she is a founding member of the East Tamaki Community Garden, teaching gardening skills to new immigrants.
"There's real joy in this work. Most come along with no idea about even the basics of gardening; in fact growing vegetables (and flowers) in the city, let alone anywhere else, is something some would never even have contemplated. Yet how they love it and as well as developing practical skills, they learn about good nutrition."
Of course, with her interest in hedgehogs and birds, gardens and rivers, it's hardly a surprise, (oh well, maybe a bit of a surprise), to learn Terri's animal welfare domain also includes wetas. Having worked as a volunteer in the entomology department of the Auckland War Memorial Museum, her interest in insects took her on a new path.
"There was a fascinating 'weird and wonderful' section that the kiddies loved especially the cockroach display. We decided it could do with some wetas, too!"
Subsequently, Terri became a weta breeder using some disused fish tanks she had at home.
"At my first 'birthing' scores of little wetas were born. Nearly all were relocated to bush areas around Titirangi and a few went to the museum."
Now you might think that's enough to keep 10 women busy but despite being just one – even if she is a dynamo – Terri also works in the St Andrew's Op Shop in Howick every third Wednesday and is grateful for the bags of rags they donate to help keep her cubicles clean.
But, with her multitude of jobs one could ask Terri does she ever get tired of the demands on her time?
"Never! Well, hardly ever. I don't like being on my own and all my activities mean I seldom feel lonely or have time to sit around moping. I'm just glad I can still do the work and contribute to the community."
Handling hedgehogs
Why hedgehogs? It a question Terri Marchant has been asked dozens of times when people hear about her dedicated efforts to ensure the welfare of these charming if prickly garden creatures.
"Why not?" she replies. They are so cute and they really are a gardener's friend, eating the slugs, snails and other pests we can do without then it comes to veg and flower beds."
While she is well set up to care for sick, hurt and abandoned hedgehogs, Terri suggests locals could also do a lot to protect and nurture them as well as other wildlife.
"As summer continues, water is so important not just for the hedgehogs but for birds too. It's easy enough to place a shallow dish in the shade and ensure it is refreshed daily. When feeding hedgehogs, milk and bread is a 'no-no' as they cause diarrhoea and other problems; use cat biscuits or jellymeat instead."
Terri also warns gardeners to be careful when turning their compost heaps. "Hedgehogs will often nest amongst warm, decomposing green waste but if disturbed the mums will usually flee, abandoning their babies; hedgehogs don't make good mothers."
While the sight of tiny helpless hedgehog babies always spurs her to action – "they are so cute" – releasing them into the wild, fit and healthy, gives her the biggest thrill.
However, one of her patients has remained with her for many years. Mrs Tiggywinkle (now nine years old) is perfectly comfortable with her rescuer and is responsible for teaching Terri a lot about hedgehog behaviour.
"Did you know hedgehogs can travel up to two kilometres a night when exploring and it appears that many have a set route, knowing just where to stop and hide if they feel threatened. They really are fascinating creatures."
Some tips for handling hedgehogs:
• If you find an injured or sick hedgehog, don thick gardening gloves and pick it up by holding it in both hands round the middle. Place in a cardboard box lined with newspaper and provide a small towel for it to hide under.
• If your hedgehog is very poorly or cold, you can also give it a covered hot water bottle, or a drink bottle filled with warm water then wrapped in a tea towel, to snuggle up to.
• If you will have it for any period of time before it can be taken to a rescue centre, then offer dog or cat food in a shallow bowl, plus a non-tip dish of fresh water.
Do's and Don'ts to protect hedgehogs in your garden:
• Do create some areas of bush or plants where the hedgehogs can snuffle for insects.• Do put out water for drinking.
• Do put out a bowl of meaty cat food or cat biscuits, usually around dusk, in a quiet part of the garden.
• Don't put out bread and milk; hedgehogs are lactose intolerant
• Don't pick up fit hedgehogs
• Don't leave rubbish bags lying around.
• Don't use slug pellets or other chemicals; they may poison hedgehogs and other animals.
• Don't fork over compost heaps in case hedgehogs or other animals have taken up residence.
• Don't spray hedgehogs with dog or cat flea sprays. It is detrimental to them.