No matter how excited you are about the arrival of baby number two, it's natural to be worried about how your first born will cope once he/she is no longer your one-and-only.
Now is the time to embrace having only one child and here are some questions we are often asked.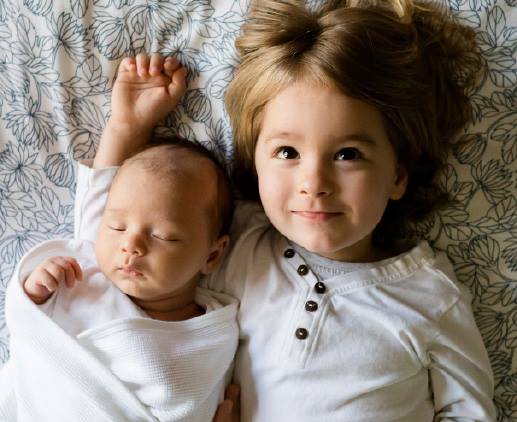 When is the right time to tell my first born?
There's no right time or perfect way to tell a child about an impending sibling. In a nutshell don't let on too early as 6-9 months in a child's eyes is a long time to wait.
When discussing the new arrival, consider your own comfort level and your child's maturity level.
Preschoolers, for example, may not grasp concepts of time, so maybe it would be more useful to explain that baby will arrive close to a special occasion i.e Christmas or birthday celebrations.
How do I prepare my child for a sibling?
It's hard for a toddler to understand what a new baby is all about. A helpful way to prepare them is by looking through your photo albums and talking about when he/she was tiny.
Don't tell your child that the new baby will be 'a friend for you' because for the first year or so at least, this is unlikely to be the case. As from his/her point of view the newcomer is more likely to be a hindrance before he/she becomes a best friend.
What are some ways my child can feel part of this new journey?
• Go through your child's baby pictures with them
• Visit friends who have young children/babies
• Pack a bag for the hospital with Mummy or Daddy
• Be involved in shopping for the new baby – buy baby a special toy
• Think of potential baby names
• Go with Mummy to the doctor for her scan and to hear the baby's heartbeat.
Who will be your support crew?
It is important to ensure children are confident and happy with the people who will be caring for them around the time the baby is born. Take up any available opportunities to give them quality time with their grandparents, aunts and uncles or close friends who will be lined up to help.
Finally, remember no matter how much you prepare youngsters for a brother or sister they will still act out at times. This is a normal part of becoming an older sibling.
Good luck with the new adventures ahead!
Supplied by Caryn Mawkes – Rockabye Early Learning Centre