If there's one delicious way to hot up a cold  winter's night and sweeten the family it's with this delicious ginger honey pudding from regular contributor AJAY ZALTE, executive chef at Waipuna Hotel and Conference Centre.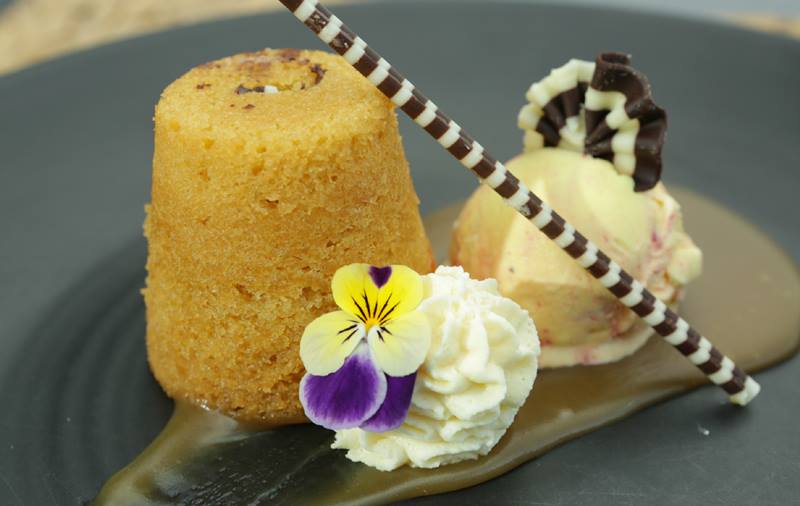 Serves 12
INGREDIENTS:
For the pudding
• 210g butter
• 80g brown sugar
• 4 eggs
• 222g self-raising flour
• 1 tsp ginger juice
• 2 tbsp honey
• 1 tbsp white wine
• Pinch of salt
For the butterscotch sauce
• 750g brown sugar
• 475g butter
• 400ml warm cream
• 12 scoops banana berry ice cream
• Chocolate garnish or flakes
METHOD:
Pudding: Beat eggs lightly. Cream butter and sugar then add beaten eggs, self-raising flour, honey, ginger juice, white wine and a pinch of salt. Mix together well.
Butter 12 cups or moulds, sprinkle with a little flour and dust. Fill moulds with the pudding mixture.
Steam for 30 minutes in a steamer or steam pan, remove from steamer, put keep aside but keep warm.
Sauce: Melt butter over heat in a small pot, add brown sugar, melt and simmer for couple of minutes. Add warm cream to the butter and sugar mixture, mix together and simmer for
3-4 minutes until thick and of sauce consistency.
To serve: De-mould the pudding on to a plate and serve warm with butterscotch sauce, banana berry ice cream, whipped cream and chocolate garnish or flakes.
Chef's note:
Take extra care while making the sauce as the melting point of sugar is very hot; it reaches up to 186 degrees celsius and can result in a serious burn.