This Italian Meatball recipe is easy to throw together for family and friends leaving you with added time to spend outdoors enjoying the warm sunshine as it begins to make its presence felt.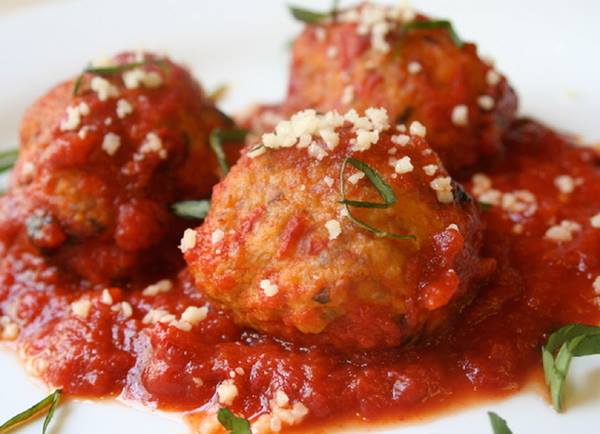 A truly Italian flavour with the taste of tradition and simplicity, these meatballs are perfectly paired with a glass of fortified Italian red wine and either Acqua Panna still mineral water or S.Pellegrino sparkling mineral water to cleanse the palate – what better way to celebrate the
new season?
PREP TIME: 20min | COOK TIME: 40min | SERVES: 4
INGREDIENTS
• 4 slices white bread
• 100 ml milk
• 50 g raw smoked ham
• 2 tbsp finely chopped basil
• 600 g minced meat
• 1 tbsp capers
• 2 tbsp freshly grated parmesan
• 1 onion
• 1 carrot
• 1 stick celery
• 2 tbsp olive oil
• 400 g peeled tomato
• 200 ml dry red wine
• 12 leaves sage
• Freshly ground salt & pepper
METHOD
Cut crusts off the bread, put bread into a deep plate and pour the milk over it. Remove the fat from the ham and chop the ham.
Squeeze the bread out with your hands and crumble finely. Then put into a bowl with the mince, ham, basil, chopped capers and cheese.
Season with salt and pepper and knead to a 'dough'. Form into small balls the size of table tennis balls. Peel the onion and chop very finely.
Peel the carrot, wash the celery and finely dice both. Heat the oil in a large frying pan and fry the vegetables for a minute or two. Then remove veggies from pan and set aside.
Put the meatballs into the pan and brown on all sides. Puree the tomatoes with the red wine and add to the frying pan. Add the sage and vegetables, cover and simmer for approximately 30 minutes.
Finally, season to taste with salt and pepper.