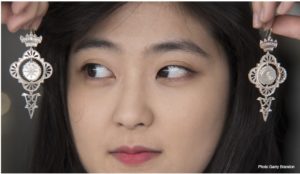 The painstaking, delicate detail put into these stunning sun and moon chandelier earrings, with ornamentation inspired by the Byzantine Empire, has reaped rewards for trainee jeweller, Kelly Ryu.
She was named Apprentice of the Year in the third and fourth year apprentice/student category at the prestigious Jewellery Design Awards 2017 held recently in Sydney as part of the International Jewellery Fair 2017.
Featuring 28cubic zirconia set in sterling silver with spinning sun and moon centrepieces, the earrings were designed and made by Kelly in November 2016 ahead of her final year at the Peter Minturn Goldsmith School in Auckland.
"They resulted from a class assignment to design chandelier earrings inspired by some aspect of the Silk Road story," Kelly says.
"I was fascinated by the granulation techniques of that time and the ability to create sturdy, weighty jewellery that nevertheless was extremely delicate."
Although content with just the win and recognition of her talent, Kelly says the competition prize money of A$2500 (NZ$2773) is more than welcome.
She hopes to use it for some jewellery making tools and to set up a small home workshop before she starts full time work at Howick Village Jeweller later this year.