Expo
Taste of Auckland
November 16-19, Western Springs Stadium, Stadium Rd, Western Springs In the mood for food? If so,check out this event which offers plenty to tempt the palate…even smashed avos on toast, we'd bet! Visit tasteofauckland.co.nz.
Fundraisers
Burn Support Group Quiz Night
November 18, from 7pm, Pakuranga United Rugby Club, 78 Bells Rd, Lloyd Elsmore Park, Pakuranga Heights.  Riddle me this: how many locals does it take to help support a good cause? Well, enough to fill a rugby club, of course! Sharpen your wits and prepare to share your knowledge as the quizzical Jim Kayes makes with the questions. Raffles, an auction and spot prizes will also feature during this fundraiser for the annual children's burn camp. To book a table see burns.org.nz/upcomingevents.
Music
Stairway to Heaven – Led Zeppelin Masters
November 4, from 8pm, The Civic, cnr Queen & Wellesley St, Auckland. When Led Zeppelin Masters hits The Civic this month, they'll be backed by some of the refined musicians in the business. With more than just a little help from the Auckland Philharmonia Orchestra, hits made famous by Plant and Page will hit the stage again. More information via apo.co.nz.
Janine Jansen Plays Sibelius  
November 11, from 7.30pm, Great Hall, Auckland Town Hall, Queen St, Auckland City
If the devil were to come down to Auckland for a fi ddle contest he'd be beaten much worse
than had he stayed in Georgia. That's because (on November 11, anyway), Auckland will host violin virtuoso Janine Jansen who'll be performing a compelling Nordic masterpiece
– a tribute to traditional folk melodies – Jean Sibelius' Violin Concerto. See nzso.co.nz.
Manukau Symphony Orchestra – Homeland
November 25, 7.30-10pm, BNZ Theatre, Vodafone Events Centre, 770 Great South Rd, Manukau.  If home is where the heart is, it's also where the art is this month as the Manukau Symphony Orchestra presents Homeland. In addition to Dvorák's glorious Cello Concerto, this concert will also treat the audience to Sibelius' nostalgic 1st Symphony. See manukausymphony.org.nz.
Magic
Magicians

November 3-4, from 7.30pm, ASB Theatre, Aotea Centre, 50 Mayoral Dr, Auckland City
With a name like this it should be obvious what one should expect from this show; however, as the performers specialise in the unexpected, who can say what tricks they'll pull! Featuring a famous fi ve of the world's top magicians – Scotland's Colin Cloud and Hector Mancha from Spain, as well as Rob Zabrecky, Shin Lim and Charlie Frye (USA) – this showcase will see the (seemingly) impossible made, well, possible! For details, see  aucklandlive.co.nz/show/magicians for more information.
Home & Garden
Uxbridge Garden Safari November 4, 9am-7pm, from Uxbridge Arts Centre, 35 Uxbridge Rd, Howick How does your garden grow? Well, unless you're as green-fingered as locals set to show off their splendid gardens during this year's Uxbridge Garden Safari, maybe it's time to harvest a few tips! After its successful return last year, this iconic event again expects to yield plenty of ripe ideas for gardening enthusiasts. See uxbridge.org.nz for further details.
Waiheke Island Garden Safari
November 11-12, locations vary, Waiheke Island Since 2001, green-fingered gardeners and ham-fi sted homeowners alike have headed out on safari to reap design ideas on Waiheke Island. A great event for anyone looking to design and develop outdoor spaces, the safari is also the perfect excuse to take a break on the island…all in the name of 'research', of course! Visit waihekegardensafari.co.nz.
Waiheke Walking Festival
November 18-26, locations vary, Waiheke Island Just a week after Waiheke welcomes visitors into some of its fi nest gardens during its garden safari (Nov 11-12), comes the perfect opportunity to see why (oh why!), every year, thousands flock to this East Auckland isle. This free, nine-day event includes walks for people from all walks of life and levels of fi tness. See waihekewalkingfestival.org.
Auckland Garden DesignFest
November 25-26, locations vary Over two days, the Garden Design Society and Rotary Newmarket will take visitors on a tour down rarely trod garden paths to reveal the handiwork of some of New Zealand's fi nest landscape designers. Proceeds from this event are set to benefit charities including Ronald McDonald House and Garden to Table. For details visit gardendesignfest.co.nz. For a sneak peek at one of this year's gardens, see page 36.
NZ Flower & Garden Show
November 29 – December 3, The Trusts Arena, 65-67 Central Park Dr, Henderson
Everything's coming up roses as the NZ Flower & Garden Show bursts into bloom. It's been a long wait since 2008 (when the show moved to Christchurch) but now fl ower power is back in Auckland once again. From florals to edibles, landscape design to backyard tips and international trends, this show is set to offer living proof that Auckland is a city on the grow! See nzflowergardenshow.co.nz for more information.
Theatre, Burlesque
Maison de Tease
November 10, from 8pm (doors open earlier), The Lounge, 186 Wellington St, Howick
Don't lounge around, head down to The Lounge for the latest instalment of Maison de Tease.  Hosted by MisRed Delicious, this event offers plenty of saucy fun. Details via ddeliciousburlesque.com or howicklounge.co.nz.
Book Ends
November 11-19, times vary, Howick Little Theatre, 1 Sir Lloyd Dr, Lloyd Elsmore Park, Pakuranga Old friends (like book ends) can come together balancing out the world between them. In this, another Kiwi comedy classic, by Roger Hall, members of the Cabin Fever Club meets to discuss their love of books. However, can these cantankerous, opinionated literary types cope with the unstoppable advance of technology which could see their livelihoods consigned to the book bins of history? See hlt. org.nz/whats-on.
Fitness & Racing
Auckland SuperSprint
November 3-5, Pukekohe Park Raceway, 222 -250 Manukau Rd, Pukekohe.  When some of the world's finest peddlers take to the track at Pukekohe, these magnificent men in their driving machines are sure to be frightfully keen to steal the scene. Featuring two 200km races over two days, round 13 of the Virgin Australia Supercars Championship should provide plenty of thrills. Visit supercars. com/auckland.
Melbourne Cup Day at Ellerslie
November 7, 11am-9pm, Ellerslie Racecourse, 80 Ascot Ave, Remuera.  While the epicentre of the party known as the Melbourne Cup might be more than 2500km away, that doesn't mean we can't join in the revelry and rivalry of the world's premier sporting events. In addition to racing this event also features plenty for fashionistas too. For details see ellerslie.co.nz/melbourne-cup-day.
Family Fun
Wonky Donkey Show
November 25, 11am-12pm, Uxbridge Arts & Culture Centre, 35 Uxbridge Rd, Howick
A certain EastLife editor has been banned from texting the colloquialism 'okay dokey'. Thanks to her auto-correct it always comes out as 'okay donkey'! And yet, when asked if she would consider taking her grandies to this show, 'okay donkey' was an entirely appropriate response! Well-known children's author and singersongwriter, Craig Smith, is sure to delight little ones at Uxbridge this month thanks to this interactive show. See uxbridge.co.nz.
Arts
Pamela French exhibition
November 3-26, 10am-3pm (Fridays-Sundays), Green Gables Art Gallery, Hawthornden Reserve, 66 Cook St, Howick.  Quite 'frankly', French is pretty darn good with a brush! Enjoy the paintings of Pamela French at Green Gables this month. Sales will help support South Auckland Totara Hospice. Contact Howick Art Group (via howickartgroup.co.nz) for more information.
Bucklands Beach Yacht Club art exhibition 
November 8-10, from 9am (Opening Night Nov 7, from 6.30pm), Bucklands Beach Yacht Club, Ara-Tai Rd, Half Moon Bay.  Some go to sea to see the world but, when it comes to seeing some splendid works of art this month, it's best to stay in port! While works by feature artist, Wallace Trickett, will anchor this exhibition, pieces by other able artists will be on show too with proceeds benefiting the club's Junior Sailing Programme. So, if ships 'float your boat', contact the club (via bbyc.org.nz) for more information.
Sculpture in the Gardens
November 11 – February 25, 8am-8pm, Auckland Botanic Gardens, 102 Hill Rd, The Gardens From this month visitors to the Auckland Botanic Gardens will encounter plenty of manmade beauty. With sculptures ranging from the classical to the contemporary, this event proves that art belongs at the heart of any garden. See more detail at sculptureinthegardens.nz.
Country Calendar
Clevedon A&P Show
November 18-19, Clevedon Showgrounds, 107 Monument Rd, Clevedon
Although last year's show proved a no-show due to inclement weather, the Clevedon A&P Show is back on the road providing plenty for country kids and city sorts alike.
This year's event is expected to prove that absence really does make the heart grow fonder! See clevedonshow.co.nz for details.
Christmas
Farmers Santa Parade
November 26, from 1pm, from Aotea Square, Auckland City
While, at EastLife we think the Howick Santa Parade can't be beat, the central city's little shindig isn't too bad either. And, with the main Howick event coming up soon after (Dec 3), Santa could probably use the city practice anyway. Parade details at santaparade.co.nz.
APO 4 Kids Christmas
December 2, from 10am & 11.30am, Auckland Town Hall, Queen St, Auckland
One of EastLife's favourite seasonal events is back at the Town Hall. Enjoyed by children and parents alike, this concert features music and stories for all the family. See apo.co.nz/whats-on.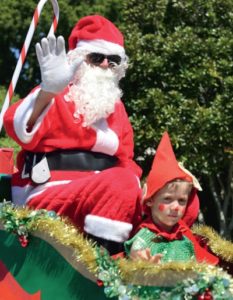 Howick Santa Parade
December 3, from 2.30pm, Picton Street, Howick
After warming up at the Farmers Santa Parade – needed after almost a year of chilling out, sitting on his jingle bells at the North Pole! – Mr Christmas will be on top form in Howick
on Dec 3. For more information visit times.co.nz/howicksanta-parade.