The Baby Show August 18-20, 10am-5pm, ASB Showgrounds, 217 Greenlane West, Epsom
The Baby Show goes to show that big things (oh, so many big things!) are needed in order to cater to little packages! Featuring a huge range of products and services for babies, toddlers, pregnancy and parenthood, this event also offers invaluable advice for parents – 'don't do it' now proven somewhat redundant! – and plenty of fun activities for all the (growing) family. For details see babyshow.co.nz.
The Claxtons August 4, 6-11pm, John Hill Estate, cnr John Hill & White Rd, Hunua
When claxons sound the result is hardly music to one's ears but when The Claxtons play their tunes, it's well worth a listen! Along with guest appearances by Daveena Smith, Anna Matheson and Briar Heke, this critically acclaimed band will take to the stage this month in efforts to help Clevedon School raise funds for a new outdoor education facility. Contact John Hill Estate (via johnhillestate.co.nz) for details.
Auckland Jazz Orchestra August 5, 8-10pm, Uxbridge Arts & Culture Centre, 35 Uxbridge Rd, Howick
Roll over Jazzy Jeff and give the Fresh Prince the news… jazz music will be back at its brassy best this month when the Auckland Jazz Orchestra hits town. Featuring new and original arrangements and compositions, this 17-piece ensemble – along with the soulful sounds of singer, Caitlin Smith – is expected to leave today's DJs in the dust! See uxbridge.co.nz.
Magic of the Musicals August 17, from 8pm, Aotea Centre, 50 Mayoral Dr, Auckland City
Rhodes leads in Auckland this month when bass-baritone Teddy Tahu Rhodes stars during Magic of the Musicals. With full symphonic arrangements of songs from some of the most loved Broadway and West End shows, this concert is proudly presented by the Auckland Philharmonia Orchestra and New Zealand Opera.
For details about this concert and others also on this month, see www.apo.co.nz/whats-on.
Manukau Symphony Orchestra – Classics August 19, 7.30-10pm, BNZ Theatre, Vodafone Events Centre, 770 Great South Rd, Manukau
Even on a late winter's evening, it's a great time to enjoy A Midsummer Night's Dream. Beginning with a Mendelssohn masterwork (an overture to this Shakespeare comedy), this concert also includes J. S. Bach's Concerto for Oboe and Violin as well as Tchaikovsky's powerful 5th Symphony.
See manukausymphony.org.nz for details.
Pakuranga Choral Society Concert August 20, 2.30-4pm, All Saints Anglican Church, 17 Selwyn Rd, Howick
Some say music is a gift from God; others that it's man's way of paying homage to the Almighty. Either way, it's safe to say that the best sounds can be attributed to a… choir power!
In addition to performances of songs from stage and screen, this concert also sees barber shop group, Macappella, from Macleans College, proving why they're considered a cut above! For more information, contact the church via allsaintshowick.org.nz.
The Last Night of the Proms August 21, 11am-1pm, Somervell Presbyterian Church, cnr Greenlane and Remuera Rds, Remuera, and August 22, St Columba Presbyterian Church, 480 Ti Rakau Dr, BotanyIf the last night is half as good as the first, we're in for a treat!
This right royal variety show has wowed audiences for many years for good reason. And now, it's set to bring down the house locally. For more information, see operatunity.co.nz.
The Little Things in Life August 26, Scarecrow Cafe, 33 Victoria Street East, Auckland CityStone the crows and serve the seafood!
To celebrate the finest kai moana our Aotearoa has to offer, chefs, Damian Husted (a former East Aucklander) and Oliver Philp will be dishing out seafood during Auckland Restaurant Month. But it's not the big fish which will make the plate. Instead, patrons will be taken on a culinary voyage, discovering during seven courses that, often enough, it's little fish that offer the greatest taste. See scarecrow.co.nz/events for details.
Nell Gwynn August 15-30, show times vary, ASB Waterfront Theatre, 138 Halsey
Street, Auckland City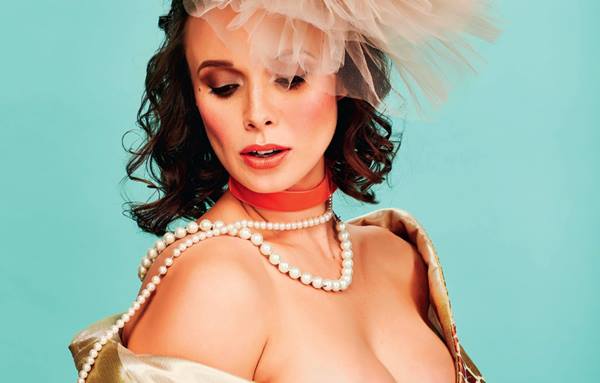 A woman acting on stage? The very idea! By 1660, treading the boards may have long been seen as a male occupation, but that was before Nell Gwynn made her debut. As The King's Company's first leading lady, Nell is about to cause a stir in post-puritan London when the King himself becomes smitten with this witty orange seller. Billed
as 'brilliant and bodacious', Nell Gwynn is a comedic romp telling the story of a legendary love affair.
Visit Auckland Theatre Company's website (atc.co.nz/whats-on) for details.
Ben Hurley's: Earth Planet Show August 10, 7-10pm, Uxbridge Arts & Culture Centre, 35 Uxbridge Rd, Howick
From Afghanistan to Zimbabwe, 'world famous in New Zealand' comedian, Ben Hurley, takes on the world. Ben dreamed of performing in every country, but after realising such a task was impractical, the comic (of 7 Days' fame) has written a joke about each one instead as this performance reveals.
Can Ben rise to the occasion or will the world prove too much rather than not enough? Check out the Theatre tab at uxbridge.co.nz
Romeo & Juliet Aug 30 – Sep 3, times vary, ASB Theatre, Aotea Centre, 50 Mayoral Drive, Auckland City
Whether you know this timeless tale thanks to Lou Reed or Dire Straits, Leo DiCaprio or Leo Bernstein, or even by reading the words of old Bill (Shakespeare) himself, odds are, you know this tale. However, there are few (if any) would could perform this tragic masterpiece as gracefully as the Royal New Zealand Ballet.
For more information, see rnzb.org.nz.
Chance to Ignite August 2-4, Mangere Arts Centre, Corner Bader Drive & Orly Avenue, Mangere
What do you get when bringing together seven young women with boxing, jujitzu, 'for real' stories and a lot of sass? The answer is obvious… a Chance to Ignite! Designed to showcase emerging artists, this show expects to deliver the unexpected. However, you can expect to find more information about this one at massivecompany.co.nz.
Maison de Tease August 5, 7.30-11pm, The Lounge, 186 Wellington St, Howick
The best of burlesque – calm down, we said 'best'! – is back again at The Lounge. This month's most titillating evening features such acts as Bettsy Rose Lee, MisRed Delicious, Pixie Twist and many more.
For details, see howicklounge.co.nz/blog.
AK.75-85: Music Photos by Murray Cammick August 1-19, Black Asterisk Gallery, 10 Ponsonby Road, Grey Lynn
Ripping up the music of a tumultuous era, music journalist and photographer, Murray Cammick, was on the scene when the sounds of the '70s and '80s hit Auckland.
With this exhibition, Murray shares a wide range of images from the heyday of such iconic musicians as Bob Marley, The Ramones, punk's favourite Stooge, Iggy Pop, NZ's own fi rebrand 'sailor', Graham Brazier, and the glass-hearted heartbreaker herself, Debbie Harry – aka Blondie.
For more, see blackasterisk.co.nz.
Rebecca Lynn & Martin Searle exhibition August 4-27, 10am-3pm (Fridays-Sundays), Green Gables Art Gallery, Hawthornden Reserve  66 Cook St, Howick This month, Green Gables will share the work of Rebecca Lynn and Martin Searle.
As usual, sales will help support the good work of a great organisation, the South Auckland Totara Hospice. For details, contact the Howick Art Group via howickartgroup.co.nz
Lisa Crowley: The Incandescents August 12 – October 22, Te Tuhi, 13 Reeves Rd, Pakuranga With contributions from Jan Bryant, Gwyn Porter, Ngahuia Harrison and Evangeline Riddiford Graham, Lisa Crowley presents a new body of work at Te Tuhi.
Featuring writing by a selection of artists and writers as well as video works, this exhibition seeks to examine Virginia Woolf's concept of the incandescent mind; that uninhibited creativity is born of both subjective and objective thinking. For further information, see tetuhi.org.nz.
Mothers Chrome Expression SessionAugust 5-6, from 9am, Hampton Downs Motor Sport Park, Hampton Downs Road, Te Kauwhata
If your mother thinks it's dangerous, it's probably on track at Hampton Downs this month! From racing, drag racing, drifting and burnout sessions, to passenger rides, gymkhana, trade sites and entertainment, this event offers plenty for fans of almost anything with a motor. For details, see chromenz.co.nz
Howick Village Market Every Saturday, 8am-12.30pm, Picton St, Howick
Classy Crafts Indoor Market First and third Saturday of the month until end of October and then every Saturday until Christmas, 9am-1pm, All Saints Community Centre, Cook St, Howick
Clevedon Village Farmers' Market Every Sunday, 8.30am-12pm, Clevedon Showgrounds, Monument Rd, Clevedon
Clevedon Village Market Every Sunday, 9am-2pm, Clevedon Community Centre, 1 Papakura-Clevedon Rd, Clevedon
Pakuranga Night Market Every Saturday night, 6pm-12midnight, under The Warehouse, Pakuranga Plaza
Botany Night Market Every Wednesday night, 5.30-11pm, beneath Hoyts, Botany Town Centre
Alfriston Country Market First Saturday of the month except January, 9am-12pm, Alfriston Community Hall, Mill Road, Alfriston
Shifty Traders Every Saturday, 8am-12pm, Pine Harbour Marina, Jack Lachlan Dr, Beachlands