As the Monterey Gallery's upcoming exhibition by Russell Hollings looms, gallery, co-owner HOLLY DAVIES, reflects on his work and what to expect from An Artist's Journey.
When Anne and I took over Monterey Gallery at the beginning of the year, we closed for renovations and had a sort out at the same time. While sifting through the stockroom looking at pieces to determine what should be on show for the gallery's re-opening, two of Russell Hollings' abstract oil paintings stood out.
We could tell instantly that this artist had a wonderful understanding of colour and tone, paired with fan-like brush strokes which we felt made the works feel delicate and considered.
We now know his abstract pieces are the hardest for Hollings to produce with each piece taking several months. He relies mostly on memory and sketches he's made, focusing on composition and shape.
Although the final pieces come together as if conducting an orchestra, he describes the abstracts as "resembling a battlefield during their creation."
Hollings does not limit himself to abstract works and in our August exhibition, An Artist's Journey, he will feature new works across his main four styles of painting – landscape, plein air, abstract and still life.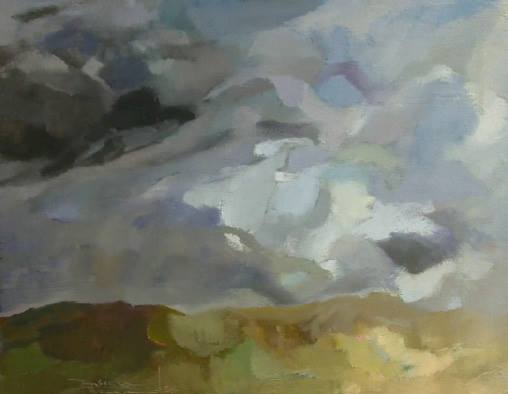 Drawing inspiration from surrounding environments for his sketches and paintings, with particular concern being shown for light and atmosphere, Hollings says he surveys his environments for elements that spark immediate responses.
An Artist's Journey is his 38th solo show. He has been exhibiting since the 1960s and this exhibition represents his evolution as a painter through extensive experimentation in different styles.
Hollings' is always striving to create pieces with a lasting resonance. "Translating a subject into paint is very challenging and often mysterious," he says. "With 50 years experience it doesn't get any easier."